Hurricane Gloria
September 1985
Quick Facts
Storm Type | Cat. 2 Hurricane
NC Landfall | Hatteras
NC Wind Speed | 104 mph
NC Storm Surge | 8 ft
NC Rainfall | 8 in
NC Pressure | 27.82 in

Total Deaths | 8
NC Deaths | 1

Total Cost Then | $900,000,000
Total Cost 2018 | $2,095,644,981
about this storm
One year after Diana visited the Cape Fear Coast, Hurricane Gloria sped toward North Carolina and presented another serious threat to the state. Gloria was a larger, more powerful storm that appeared to be headed for a direct hit near Cape Lookout. Some had even dubbed it "one of the storms of the century." But like many hurricanes, Gloria changed course slightly as it approached the state, and it scoured the Outer Banks on September 27, 1985.
Gloria was first observed as a tropical depression off the western coast of Africa on September 15. For several days, the storm drifted across the Atlantic and intensified. On September 22, Gloria reached hurricane strength and began a northwesterly course toward the Carolinas. By the time it reached a point 400 miles southeast of Cape Hatteras, Gloria's central pressure had dropped below 948 mb. For the second time in two years, a category 4 hurricane was threatening North Carolina's beaches.
Hurricane warnings were issued, and thousands fled their homes to seek refuge in emergency shelters. Schools, hospitals, churches and other public facilities were packed with evacuees, just as they had been during Diana. But the warnings for Gloria were more ominous and the evacuations more complete. Even longtime residents of Ocracoke, accustomed to frequent storms and sever hurricanes in the past, left their island homes for safe shelter. Many boarded the ferry to Swan Quarter, where they found refuge in shelters and hotels. It was estimated that ninety residents remained on Ocracoke to ride out the storm.
Early predictions called for Gloria to make landfall near Morehead City. But as the hurricane approached the central coast, it swerved northward and passed over Hatteras Island around 1:30 A.M. on September 27. Gloria's eye continued across the banks and reentered the Atlantic near Nag's Head on a northeasterly track. From there, the storm regained strength and picked up forward speed. Gloria was moving about 35 mph when it struck the continent for a second time on Long Island, New York. It continued across Long Island Sound and blasted Connecticut, Rhode Island, Massachusetts and Maine with high winds and heavy rains.
Amazingly, Gloria's sweep of the Outer Banks brought modest damage to the islands. Even though the hurricane had been touted as "the most powerful in years," several factors contributed to the less-than-expected destruction. Fortunately, the lunar tide was receding as the storm brushed over Cape Hatteras. And as with many hurricanes, Gloria's more powerful eastern half remained over the Atlantic as it spun up the coast. Also, Gloria moved through rapidly, never lingering to pile up water and destruction.
Although reconnaissance aircraft had reported winds up to 130 mph, the highest winds measured on land were substantially less. Diamond Shoals Tower, about fifteen miles southeast of Cape Hatters, recorded maximum sustained winds of 98 mph and gusts to 120 mph. At the Cape Hatteras Weather Station, sustained winds of 74mph and gusts to 86 mph were measured. Several locations from Ocracoke to Virginia Beach reported gusts over 100 mph. But overall, Gloria's winds were less than expected.
Observers at the Cape Hatteras Weather Station recorded a low pressure reading of 947 mb, classifying Gloria as a category 3 storm at the time of landfall. As the Weather Service staff anxiously watched their radar screens and instruments, the hurricane's eight-mile-wide eye rolled directly over the station. The storm's howling winds dropped quickly to 6 mph, and the calm lasted for about thirty-seven minutes. But when the southern eye wall struck, it hit quickly, and the light winds grew to hurricane force within three minutes. The rapid changes in barometric pressure that occurred with the passing of Gloria's eye caused headaches and "popping" ears in the Weather Service staff.
High tides were most severe along the northern Outer Banks. Highway 12 was overwashed in several locations and sand covered the roadway near Avon and on the northern end of Ocracoke. Tides were generally six to eight feet above normal on the Outer Banks, six feet in the Cherry Point area, and four feet at Wrightsville Beach. Erosion along the oceanfront was severe in numerous locations, as some beaches lost more than twenty-five feet of dune. Rainfall totals included 7.80 inches in Williamston, 7.09 inches in New Bern, and 7 inches in Cherry Point. Although the hurricane tracked directly over the island, Cape Hatteras reported only 2.10 inches.
Dare County suffered the greatest damages from Hurricane Gloria. In Manteo, four feet of water flooded downtown streets and several businesses. Two fires blazed out of control on Roanoke Island during the storm. A home on Pond Island, near Manteo, was lost when firefighters were forced to retreat as floodwaters rose. A dangling power line was believed to be responsible for another fire at Ace Hardware store on Highway 64. Firemen battling the blaze lost their water supply and were forced to pump out nearby flooded streets. By daybreak the store had been leveled.
As with most hurricanes, high winds caused thousands to lose power during the storm. Trees were uprooted, mobile homes were flipped over, and several structures lost their roofs. Numerous fishing pier were damaged by the storm's rolling seas. The double-masted cargo schooner Jens Juhl broke from its mooring near Beaufort and snapped its masts as it became wedged under a nearby drawbridge. In Morehead City, high winds ripped open an air supported phosphate storage building at the state port. Residents were surprised to see the "balloon building" deflated in the aftermath of Gloria.
But the damage in North Carolina from Gloria totaled only about $8 million, far less than expected. In an interview with the Raleigh News and Observer after the storm, state emergency management official Doug Hoell commented on Gloria's toll: "We were amazed at the lack of damage for a storm this size. We're concerned that people are going to look at this hurricane and say this was the fourth worst hurricane ever, and it didn't do any damage. So they may not evacuate next time, and next time may be the killer storm." Only one death was attributed to Gloria in North Carolina when a tree fell on a mobile home and killed a man.
After Gloria brushed by the Carolina coast, it maintained its course and slammed into the waterfront communities of Long Island. From there, the storm passed over Connecticut and sped through New England, finally dissipating over Canada. Over 1 million residents were without electricity through-out the region, as 100-130 mph gusts ripped down power lines and trees and battered homes. Several tornadoes were spawned as the hurricane tracked over one of the most densely populated regions of the country. At least six deaths were blamed on Gloria in the Northeast, and damages surpassed $1 billion on Long Island alone. Much like the Great Atlantic Hurricane of 1944, Gloria had swept the Outer Banks and then the New England states within just a matter of hours.
Gloria's impact on North Carolina was not significant, but like Diana the year before, it caught the undivided attention of the state's coastal residents. And like so many storms before it, Gloria punished the Outer Banks more severely than other parts of the Carolina coast. Fortunately, its passage left few scars on the Tar Heel State.
— Excerpt from North Carolina's Hurricane History by Jay Barnes, Fourth Edition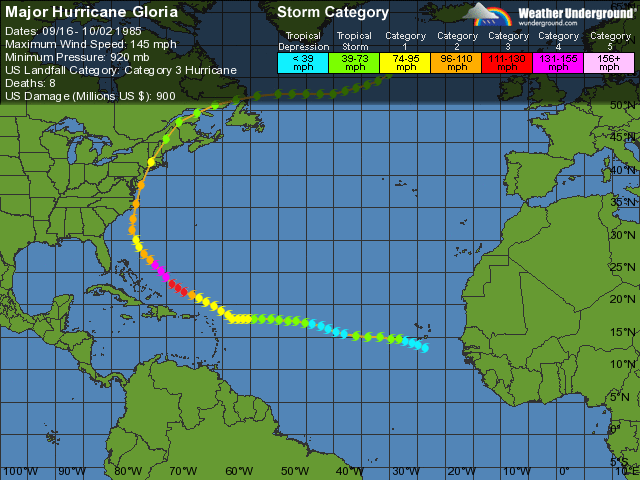 Media, PublicationS, & Reports